Welcome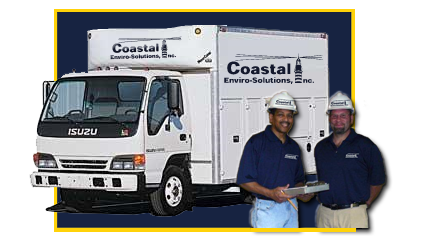 Coastal Enviro-Solutions, Inc. provides cost-effective grease management services, power washing services, indoor air quality management and fire suppression through kitchen exhaust cleaning and compliance. Service is provided across the country through our network of certified experts and distributors and we have a nearly 30 year track record of providing our valued customers with the best possible service at an affordable price.


Our dedicated team excels at providing exceptional quality control, photographic documentation, facility reports, customized service programs and much more. Whether you are looking for a one time job or ongoing service, choosing Coastal Enviro-Solutions Inc. for kitchen exhaust cleaning and compliance ensures safety and affordability from the leader in the industry.



Kitchen Hood Cleaning Services
Keeping your kitchen clean and grease free is vital to the safety of your customers, employees and building structure. Our grease management services include the following and more: kitchen hood exhaust cleaning, cooking equipment cleaning and restoration, grease trap cleaning, access door installation, fan hinge kit installation, rooftop grease containment, hydro-jetting-floor drain service, commercial kitchen inspections, grease filter cleaning, and exhaust fan service.
Commercial & Residential Power Washing Services
Power washing is the most efficient and effective commercial interior building cleaning process. We provide complete power washing services that include cleaning cooking equipment, work stations and preparation areas, walls, ceilings, floors, walk-in coolers, refrigeration evaporator coils and fans, general exhaust, and plant wash downs. Our external building cleaning services include: sidewalks, parking lots, loading docks, dumpster areas, stairways, rooftops, awnings, gutters, pool areas and decks. We also power wash siding, brick and concrete.
Kitchen Exhaust Cleaning & Indoor Air Quality
Maintaining healthy air and ventilation is not only important for good health and well-being, but also for the life span of your equipment. Our indoor air quality management services include cleaning and maintaining: air ducts, H.V.A.C. systems, ceiling registers, air handling units, coil cleaning, dryer exhaust fans, acoustic ceilings and paint booths. We also specialize in air testing and inspections and mold removal.
Fire Suppression Services
Working with grease leads to the potential for fire. Coastal Enviro-Solutions Inc. offers a variety of fire suppression services to keep danger at bay through fire extinguisher service, kitchen fore suppression, exit and emergency lights and inspections. In the unfortunate case that a fire has already occurred, we also offer fire damage restoration services to bring your place of business back into working order in as little time as possible while still providing the same great quality service and work that our clients have learned to expect.
Nationwide Grease Services & Sales
If you have any questions about any of the many services we offer, or would like to inquire about a service not listed above, please contact our national service center at 800-300-6661. Our experts are fully bonded and insured and we exceed the highest standards in the industry. We value your time and thank you for considering Coastal Enviro-Solutions Inc. as your kitchen exhaust cleaning and compliance expert.