Equipment Restoration
Equipment manufacturers say by having your cooking equipment properly maintained and serviced it will save you thousands of dollars in premature repairs and replacement costs. We have saved our customers thousands of dollars over the years by providing this one-of-a-kind unique cooking equipment restoration service. (CERS)
New cooking equipment is expensive. After a few years it becomes harder to clean and maintain. Coastal will restore your equipment to near new condition at a fraction of the cost of new equipment. All cleaning and restoration work is done on your premises after hours and your equipment is ready for use your next business day.
How the Kitchen Equipment Restoration Process is Done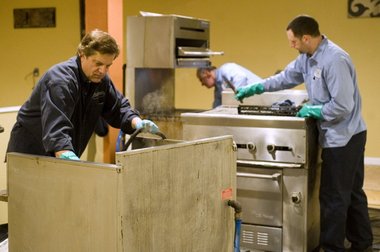 The equipment is cleaned, stripped down to the bare metal and then reassembled. A high-heat fire-coating is applied to surfaces that have original painted surfaces. All chrome is buffed back to its original condition. All knobs and parts are replaced as needed.
Why burn up your hard earned dollars on premature repairs or new equipment when you can restore it for less…
Cooking equipment restoration services are just one of many grease management services offered by Coastal.