Rooftop Grease Containment - Grease Control Systems
We offer two very unique types of rooftop containment systems that accommodate most all rooftop mechanical equipment.
We provide national service programs that including roof evaluations, inspections, roof cleaning, roof repairs, product installation as well as preventative maintenance programs. We are proud members of the Roof Consultants Institute, National Roofing Contractors Association, National Fire Protection Association, International kitchen Exhaust Cleaning Association and Restaurant Facility Management Association.
Our products and programs are endorses and approved by some of the largest foodservice chains, roofing manufacturers, roofing contractors and foodservice suppliers throughout the country. We have built our reputation over the years by providing outstanding service and quality products. Grease-CONTROL, Inc. was one of the first rooftop grease containment manufactures in the country. We are the proud owners of the nationally recognized registered trademark "GreaseDiaper®".
Our unique grease control systems are very different from others. One reason for this is our systems never come in contact with a roofing system. Secondly, our special designed GreaseDiaper® material that collects and traps the contaminants is hydrophobic. Our system acts as an oil and water separator trapping the contaminants while allowing clean rain water to drain onto a roofs surface.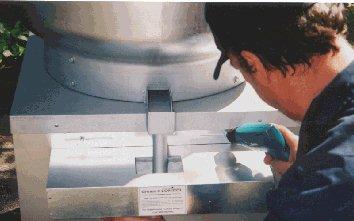 GAP-1398 DRIP PAN and GreaseDiaper® System
Collects Fat, Oils and Grease that spill from rooftop ventilators. The GAP-1398 DRIP PAN is equipped with durable replacement GreaseDiapers®. Our Equipment Meets Industry Standards.
Our System Is The Most Effective Containment System Available. The GAP-1398 DRIP PAN is pre-assembled and attaches to most duct curbs of an exhaust fan/ventilator. Our one-of-a-kind constructed galvanized steel GAP-1398 DRIP PAN replaces standard grease collection devices/boxes that overflow. Each GAP-1398 DRIP PAN accommodates our specially designed GreaseDiaper®. Our unique GreaseDiaper® collects and traps up to several quarts of fat, oils and grease. Drip Pan lids are available and priced separately.
GreaseDiapers® are cost-effective and offer easy inspection and replacement. GreaseDiapers® should be replaced monthly, quarterly or as needed. Twelve GreaseDiapers® are included with each GAP-1398 DRIP PAN.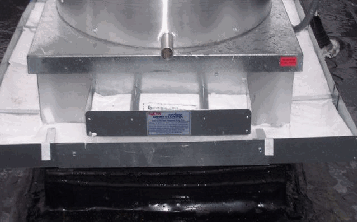 GC-4000 Four Sided Grease Containment and GreaseDiaper® System
The GC-4000 Grease Containment System is a four sided system that collects and traps grease and oils that spill from rooftop fans. The GC-4000 Grease Containment System is equipped with four durable replacement GreaseDiapers® that are hydrophobic. Our Equipment Meets Industry Standards and Roofing Specifications.
The GC-4000 is adjustable; one size fits all curbs up to 36". Larger sizes are available.
The GC-4000 is pre-assembled and easily attached to any or all four sides of a duct curb of most exhaust fans. Out heavy duty constructed galvanized steel GC-4000 never comes in contact with the roof. The GC-4000 replaces standard grease collection devices and boxes that allows grease to overflow and spill.